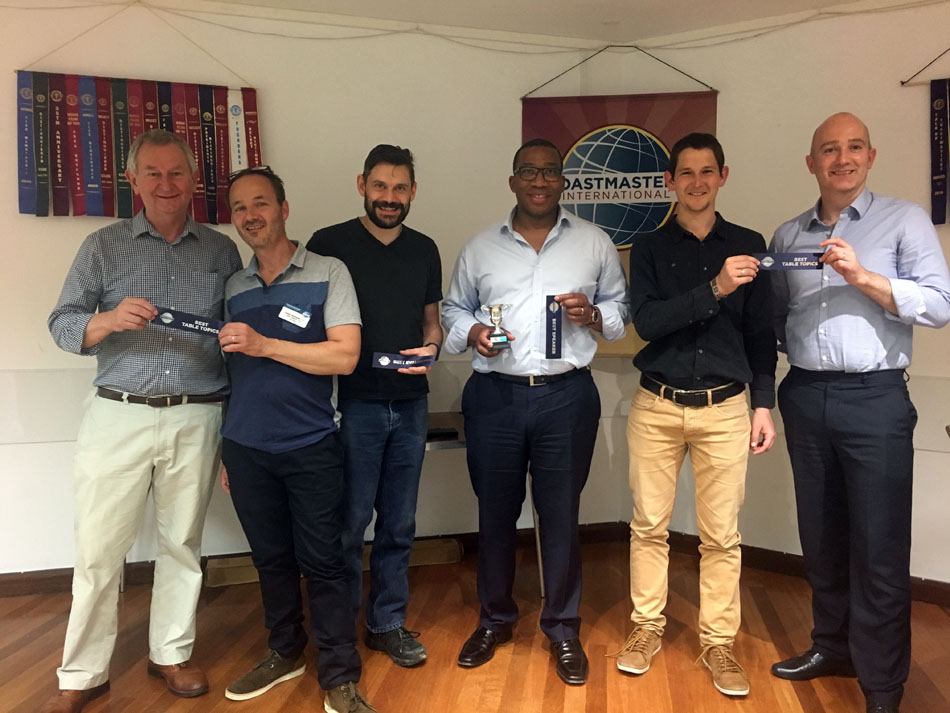 Summer's arrived early, so it was lovely to sit outside in the Wheatsheaf pub's garden (on Kingston Road) enjoying a glass of wine with some fellow members after Monday's meeting. And what a meeting that was!
After getting through the formalities of the AGM (see President's Report for summary of the year), Toastmaster for the evening, Aishi Lim CC, steered us through another enlightening and entertaining evening of speeches and evaluations. Relatively new joiner, Katy Minson, who's day job is head of Customer Experience at a healthcare provider, conducted what was for her, a truly value-for-money focus group exercise. She asked us to give a 15 second response to her question: "What would you put into your shopping bag as a treat?" For Katy, it was a carton of the highest quality organic eggs – she's an early riser and loves gorgeous eggs for breakfast. Everyone spoke, with the most common "treat" being … chocolate, closely followed by "…I hate shopping, so…."
It was great to see and hear a wide range of speeches: from Paul van der Hagen's C2 about why you should write a book and get published, to Gillian's C6 on the wonders and delights of swarms of bees, and finishing with Dave Villa-Clarke's inspirational, fantastically funny, highly charged and emotive C10 speech chronicling his Toastmaster's journey. Congratulations to Dave for achieving this milestone and attaining his Competent Communicator (CC) award. Dave's CC also goes towards helping ESC move one step closer to achieving its goals needed to maintain our President's Distinguished Club status, which signifies the highest quality club which encourages and celebrates members' achievements. Dave also took home the Best Speaker ribbon for the night; he wisely decided it was best to leave the Best Speaker trophy at the Club this time (you'd get the joke if you were there)!
First time evaluator Kevin Perkins and the more seasoned Justin Pybus delivered their thoughtful feedback on Paul's and Gillian's speeches respectively. Winner of the best evaluator ribbon went to Dave Lane on his feedback on Dave V-C's C10.
What followed the break was something we hadn't seen before … Our longest serving member, Mr Patrick Ebbs, as Topics Master, decided on an adventurous and somewhat awkward – at least, for those participating – Topics session.  Calling up two victims people up at a time, the "topic" was a randomly chosen sentence that would be the start of a story, which victim No.1 would begin with, and at some random time, Patrick would indicate for No. 2 to take over. And like any Topics session, Patrick encouraged the speakers to have an OBE – an opening, body and ending.
This was certainly a challenging format, and required speakers to listen well to their partner to build on the story. Well done to joint Topics winners Charlie & Paul Dowdeswell and Adam & Justin for stringing together enough for an ending, of sorts…. Patrick admitted that the idea for choosing this format was influenced by the Agenda, which showed two Topics Evaluators – Costa and Amanda. Now, we've had joint TE's before, and it's worked well as it reduces the stress and load on the TE, thus leading to more comprehensive feedback. Interestingly, for two evaluators to present as "one", they do need to communicate effectively and agree their plan of who does what when. We had a few hiccups with this double act of Costa and Amanda, but then again, it wasn't something any of us had seen before…
Charlie, as GE, conducted a comprehensive and compelling "no notes" evaluation of all the bits of the meeting that had not yet been evaluated. He loved Time-keeper Phoebus' use of the words "optimal time" to describe the yellow or amber light and he noted that it was the first time he'd seen the Warm Up act use a prop (shopping bag – well done, Katy). He gave commendations and recommendations to each of the three speech evaluators, as well as commenting on TM Aishi for his astute managing of the time and transitions between speakers.
Enjoy the sunshine and see you at our penultimate meeting for this TM year on Monday 5 June when Justin Pybus will be TM.
Doris
ESC President