Epsom Speakers member Elizabeth Bennett wrote this article about the history of our Club for our Speakeasy Newsletter and for the Epsom & Ewell History & Archaeology Society.
---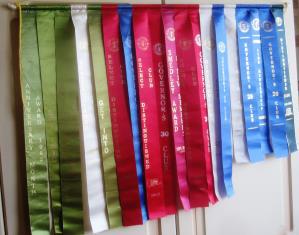 Epsom Speakers Club is part of an organisation called Toastmasters International, which was founded by Ralph Smedley in California in 1924 to teach Public Speaking and Leadership skills. TI has no connection with the toastmasters in red coats who officiate at formal banquets.
ESC itself was founded in October 1966, and is one of the three oldest TI clubs in this country. It was originally known as Epsom Toastmasters. It received its Charter at the appropriately named Charter Inn, a pub in Epsom High Street which has long since disappeared. The Charter dinner was held on Friday 24 February 1967 and was attended by the Mayor. The first AGM was held at the Spread Eagle Hotel on 15 June 1967 and Club meetings from then until 16 February 1970 were held at the Spread Eagle. The venue for earlier meetings is not given in the minute book.
A committee meeting on 7 January 1970 decided to look at Bourne Hall and the Queen Adelaide as possible venues. The first club meeting at Bourne Hall was held on 16 March 1970, a month before the official opening by the Lord Lieutenant, The Right Honourable The Earl of Munster P.C. K.L.I., on 17 April 1970. A committee meeting on 18 March decided to make the arrangement permanent. ESC has met at Bourne Hall ever since and is probably the longest regular hirer of the facilities.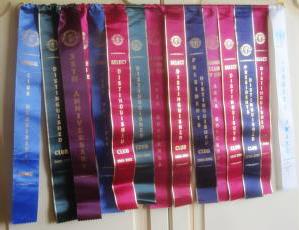 ESC was originally a male only Club and remained so until a resolution was passed at the 1986 AGM "That club rules be changed to admit ladies". Before that it held "Bring a Guest" evenings when ladies were welcomed. One or two attended regularly as guests and one of these became the first female President in the 1990/91 season. In the 1970s Bourne Hall provided a bar for the club's exclusive use and there were dinner meetings every three months. The President's Dinner, also held at Bourne Hall, was a formal black tie event with the Mayor invited as the principal guest.
Rising costs forced the Club to discontinue these events, except for an annual informal President's Dinner and a buffet dinner in 1991 to celebrate its Silver Anniversary, which was attended by a number of former members. Like many clubs ESC has had its ups and downs. It has survived this roller coaster, and celebrated its Golden Anniversary on 17 June 2016 with a special dinner at Bourne Hall in the company of the Mayor of Epsom & Ewell.
This article could not have been written without information provided by past and present ESC members and my thanks go to them.
---
Club Ribbons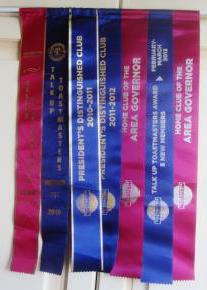 The many ribbons displayed at each of our meetings give recognitions to the history of our club, some are for gaining a set number of members in a year, others recognizing the home club of the Area Governor and many are for the various goals achieved which are set by Toastmasters. For the past few years we have been a President's Distinguished Club which means we met at least the minimum number of goals. This is all down to the hard work of everyone, officers and members alike. Take pride in our banner and ribbons, they are something to be very proud of.