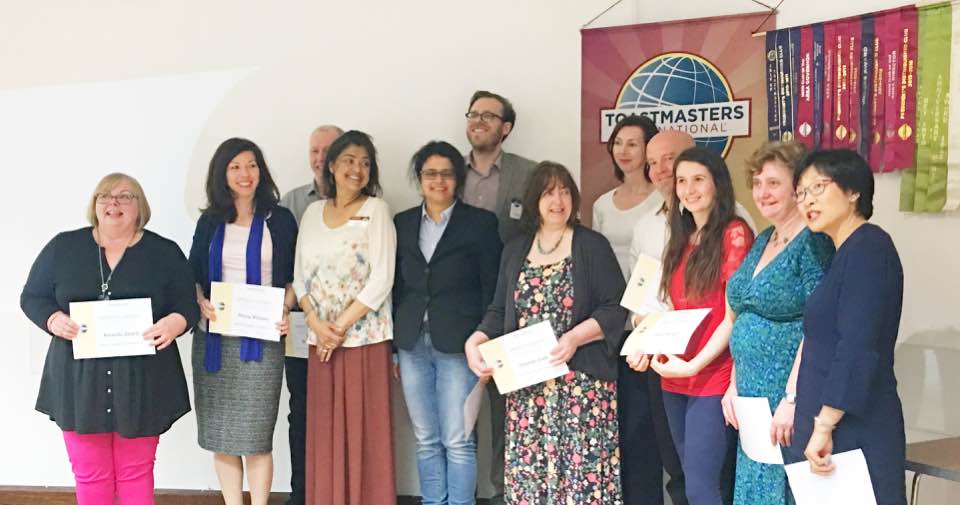 Congratulations to Ian Uption and Stephen Taylor, respective winners of the Area 53 International Speech and Evaluation contests, held last night at Bourne Hall. They go on to represent Area 53 at the Division H contest to be held on Saturday 22 April, 12.45 to 15.30 at Oxsted Community Hall, 53 Church Street, Oxsted, RH8 9NB. Please come along and support them as they move another step closer to becoming World Champions.
Ian was one of five contestants in the International Speech contest, with Fiona Harrison from Mole Valley Speakers coming second and Surbiton's Tara Majumdar in third place.
The Evaluation contest, which Stephen won, had six contestants. Second place went to Amanda Zwartz and third place to Tara Majumdar, both representing Surbition Speakers.
A big thank you to Lloyd Griffiths and Peter Parker for organising this Area Contest, to Contest Chairs Eddy Quah from Surbiton Speakers and Dave Lane, and to all the helpers and judges from the three clubs: ESC, Surbiton and Mole Valley. Special thanks also to our guest Target Speaker, Danica Giles, from Holborn Speakers. Her speech urged us all to embrace the fear of public speaking by reframing the physiological impulses and sensations (e.g. butterflies in the tummy) as one of excitement.
Our next Club meeting is on Monday 3rd April, with Costa Nicolaou as TM, and we have June McCullough coming as guest GE for the evening.
Doris
ESC President