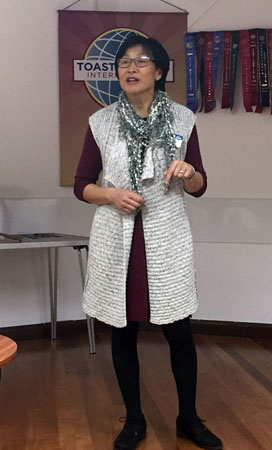 There was certainly a buzz in the packed Rose Room on Monday, with our VP Membership, Gillian Prior, at the helm as TM for the evening. This was Gillian's first time in this role, and what a great job she did in pulling together a full Agenda with four prepared speeches and evaluations. It was also the first time in the role of Warm Up for Ben Daly, who got us to talk about best and worse pieces of advice we'd given or received. Notably, many mentioned that the best advice they had was to join our Club!
And so, it was with great pleasure to welcome our two newest members who've joined ESC – Rohan Nallanickan, who did his C1 Ice Breaker, and Dave Lane who is also a member of PMI Toastmasters' Club in London.
Bohwon presented some fascinating points on how global warming will affect you in her C8 speech with some fun and factual slides. Peter Parker gave an entertaining and enlightening Advanced Speech on his recent travels to Korea. Congratulations to Dave Villa-Clarke for winning the best Best Speaker vote for his C7: "A Cold Winter", with his moving account of homelessness in Guildford – yes, Guildford!
I joined the line up of Evaluators which included Penny, Patrick and Ian – well done to Ian for picking up the Best Evaluator vote for his feedback on Dave's speech.
After the break, Charlie used some great props to help him as Topics Master – his eight year old daughter Chistiana and his soon to be 10 year old son Asher. They'd done some lovely pictures illustrating different months of the year, which was the theme for Topics. Eight speakers, which included many of our guests, took up the challenge of impromptu speaking, with Elizabeth taking home the Best Topics ribbon for her story of adventure on the high seas during the month of August during her teens.
It was great to see how well the Topics Evaluator role could be performed using two, instead of the normal one, member. Penny and Ian did this role as a double act, with each giving commendations and recommendations alternately for each speaker. We'll be using this format again, as it takes pressure off the TE role, allowing each of two TEs to focus on only half the Topics speakers.
Our Treasurer, Dave Goodman, fresh from his trans Atlantic travels, rounded off the evening with his General Evaluator's observations. In particular, Dave noted how well our presence on MeetUp and the revitalised website was working in drawing in more guests to meetings.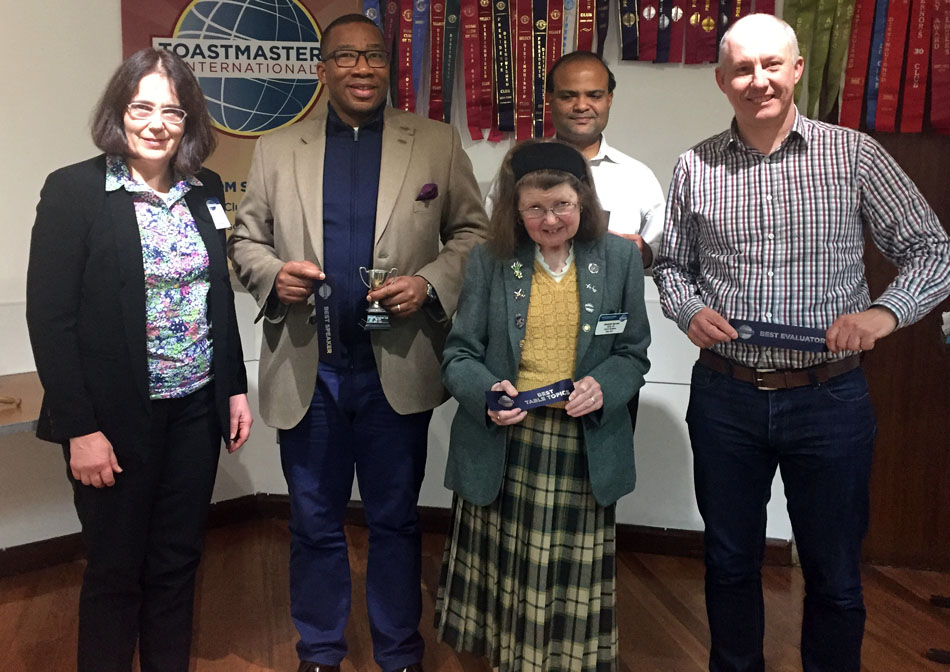 Our next meeting is on Monday 19th Dec, with Sonia Pritchard as TM, and our VP Education, Peter Parker, will be acting President.
Doris
ESC President