A (not so) subtle reminder to members we miss at meetings…
Being a Toastmaster member means more than simply making a commitment to your self-development. You're also making a commitment to the Club and it's members. We need you to attend meetings regularly and to fulfil meeting roles and assignments – two key points which form part of your "Toastmaster's Promise" which you signed up to when you joined (remember the fine print?!).
So, please, please do try to make it to all meetings – and if you can't, then please, please send your apologies to our Sergeant-at-Arms and/or the Toastmaster for the evening.
…and this is what you missed on Monday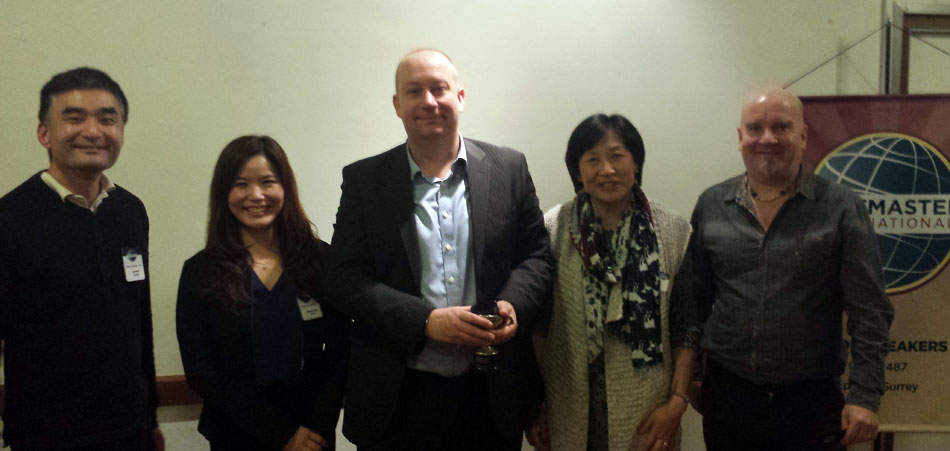 Yes, it was a dark, wet and cold evening on Monday, as predicted by our multi-talented Toastmaster for the evening, Bohwon Kim. And despite train cancellations and delays leaving her stranded in Wimbledon, Bohwon's sheer determination and commitment resulted in her getting to Bourne Hall in time, thanks to a very speedy taxi and managing to dodge much of the traffic.
With the Rose Room decked out in crafts for sale for early Christmas shoppers, we were relegated to the wider Azalea Room for another engaging and educational evening. Ian warmed us up by asking us to make one prediction for "this time next year". His own prediction was … Catherine pregnant with baby number 3!
Three well prepared and very informative speeches: Justin Pybus giving his C2 on his three steps to Self-Discipline; Tom Beattie's C2 on how to get a good night's sleep; and Professor Paul Dowdeswell's (as Bohwon called him) C3 speech about the miracle of the Blue butterfly and biodiversity. Congratulations to Tom for winning Best Speaker – again, as he won it for his C1… although that was almost a year ago! Message not just for Tom, but for everyone – draft your next speech NOW!
Evaluators Peter, Aishi and Gillian gave insightful feedback, with Peter and Aishi voted joint Best Evaluators. Sonia led an intriguing Topics session with a bag of one pence coins – did you know they were introduced in the UK in 1971? The task for Topics speakers was to pick up a coin, look at the year it was minted, and then to speak about that year. We had 9 speakers, including all 7 guests, and to my pleasant surprise I got the Best Topics ribbon!
AND THEN… what a performance Mr Warshawski gave as Topics Evaluator. No notes, which is the norm for Charlie, he manages to thrill us all with perfect recall of every speakers' name in the right order, give and demonstrate commendations and recommendations, and make it all look so easy. I asked Charlie how he does it and he tells me there's no secret – just pay attention, listen well, and practice, practice, practice and keep on coming to meetings.
Patrick rounded up the evening with his honest General Evaluation, reminding me to remind all members of their Toastmaster's Promise.
Our next meeting is Monday 5th December, with our VP Membership, Gillian Prior as TM for the evening.
Doris
ESC President