What a night we had on Monday 7th November. The Rose Room was packed, with Charlie Warshawski delivering a masterclass in the role of Toastmaster for the evening. Guests and members alike learnt the purpose and process behind each part of the evening from Charlie's clear and candid explanations. And imagine, what's going on at ESC is also going on in over 15,000 other Toastmaster Clubs across 142 countries round the world.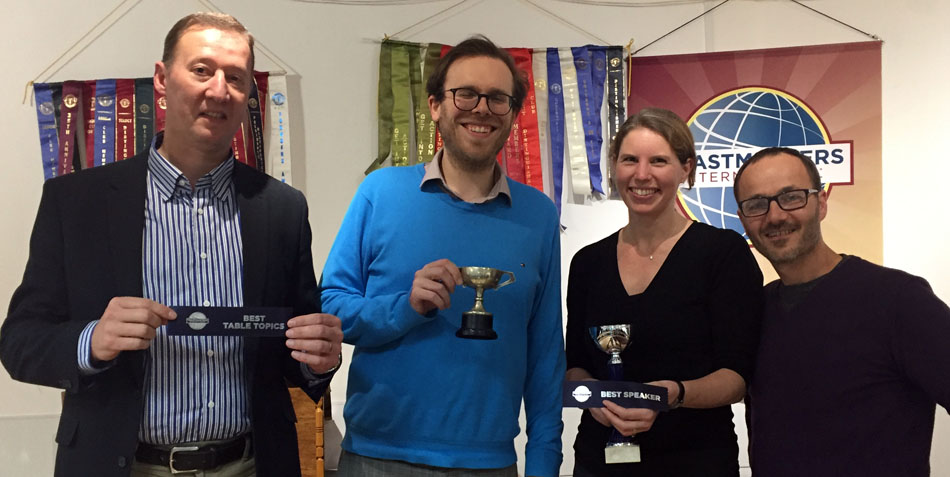 We had educational, entertaining and inspiring prepared speeches. We learnt about the appallingly high numbers of rescue dogs that are unclaimed and are put to sleep in Sheena's C3; strategies for coping with face blindness (or prosopagnosia) from Sonia's C3; unconscious defence mechanisms sabotaging our goals in James' C6; and Patrick's AS on how to use humour in true Irish style! Amanda show-cased how to run a Table Topics session, with her simple "one word" topics, producing 10 very varied impromptu speeches ranging from adventure and autumn to cooking and curry.
Club meetings are designed to give everyone a chance to practice speaking in public, also learning and developing our communication skills by giving and getting quality evaluations. The roles of Speech Evaluator, Topics Evaluator and General Evaluator requires a multitude of "in the moment" skills – listening, observing, analysing, critical thinking, impromptu speaking…. A truly sterling job was delivered by all the evening's evaluators: Penny, Bohwon, Dave V-C, Stephen, plus Adam as Topics Evaluator and Ian as General Evaluator. With practice, you too can become as good as these experienced Toastmasters – keep on filling out those written feedback forms as a first step.
Congratulations to Sonia for Best Speaker, Stephen for Best Evalutor, and guest Paul for Best Table Topics.
See you all at our next meeting on Monday 21st Nov, with Bohwon Kim as Toastmaster.
Doris
ESC President