Epsom Speakers club meeting 6th November 2017.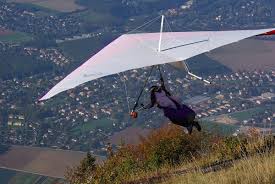 We certainly have some high flyers at Epsom Speakers club. In fact, at this meeting we had one of our members letting us know how to fly a glider. One of the wonderful attributes of Toastmasters is that you get to meet an interesting array of people. We certainly have that at Epsom Speakers and we as a committee, look forward to the further growth and development of all our members. So what happened on Monday evening?
Paul D set up the room perfectly again. And thank you all for chipping in for the tea and biscuits. This was Paul's initiative and it has improved the service. Paul also introduced the evening with his usual witty introduction of me. We then had the warm up session with Paul Van Der Hagen. Paul gave us a great thoughtful introduction to get people speaking by asking us how we would change ourselves and change the world. That is a long and deep subject matter, but we had a great array of witty to more heartfelt answers to the topic. We then had Lloyd as the Grammarian, kindly finished off by Asher who gave us a rundown of our um's and er's at the end of the meeting. What a fabulous group effort.
David Goodman was the Toastmaster for the evening, who ebbed and flowed in his usual friendly style, and showed you how to recover when forgetting a point that needs to be made as Toastmaster. David ran a fun and educational evening in a way that is inspiring to all of us. David introduced the speakers who were Daniel Magil completing his C2 speech entitled the Power of T. Daniel gave us an excellent example of a C2. He was funny and animated and used props really well. Rohan then gave us his C4 with a speech entitled Flight controls and a glider. Rohan's speech was technical, but he did slow down from his last speech, but needs to work on his eye contact. Penny gave us an educational slot on conversation. She let us know the four ways to hold a better conversation. The devices she said for us to improve our conversations were – 1. Small talk. 2. Disclosures. 3. View points and opinions. 4. Personal feelings.  Julia joined Penny on stage and gave us a great performance as a new visitor to Toastmasters. She was a valued addition to Penny's presentation. Daniel won the best speaker award. It is always good to see new members receiving awards so early in their Toastmaster journey.
We then went on to the evaluations. Evaluations are at the heart of Toastmasters and we try to commend a few times before moving onto our recommendations, and this was done admirably by all our evaluators. First up was Phoebus who evaluated Daniel. Then we had Costa evaluating Rohan, and finally Justin evaluating Penny. Both Justin and Phoebus have greatly improved with their evaluations, and this improvement in turn, will help you become a better public speaker in general. I did here the evaluators using 'you' in their evaluations, where the third person is needed. This helps to include the audience as well as the speaker being evaluated. We can learn so much from people evaluating speeches if you pay attention and see what they are recommending. There is always room for improvement for all of us. The best evaluator was won by Costa.
We then had our welcome break and moved onto the topics session. Elizabeth ran the topics session and showed us how to do it. She asked us about our favourite things. I am glad no one broke into the Sound of Music during the session, but it would have been fun. First up was Peter, which is me, speaking about my favourite food, which I said was habanera chilli. Then Hugo told us about his favourite TV programme, which was friends. Charlie told us about his favourite drink, which was green tea. I drink it by the bucket load also, by the way. It was great to see Adam back after an absence and he told us about his favourite hobby, which was playing football. Julia was up next  talking about her favourite weather, which was sunshine. Me too! Norman spoke about his favourite book, which was a scientific encyclopaedia. Norman also spoke about his interest of quantum science. So at what level was Norman really there? I am sure Norman will be able to let us know about this fascinating field of research in the not too distant future. Raj spoke about his favourite holiday destination, which was Spain. And finally, Phil gave us his favourite music which was Gangster rap. Looking at the Paradise Papers, we live in a gangsters paradise at the moment! We have an amazing session where everybody managed to speak. We have joint winners which were Hugo and Julia. Well done. Again great to see a new member and a guest win the topics.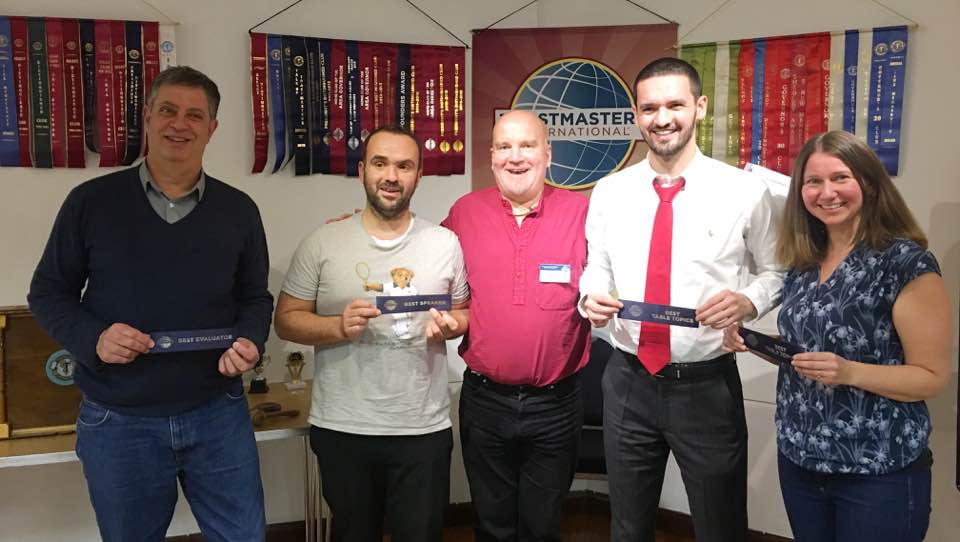 The topics evaluation was given to us by Amanda. Amanda gave us some great tips on topics, like give the topic first and then the speaker, so we all have to think about what we could say, which includes the whole room. Amanda also gave everyone great commendations and most participants recommendations. Amanda is a very experienced Toastmaster and is an inspiration to all of us. She has grown in stature since the beginnings of her Toastmaster journey where she was too nervous to even do a topics session. David Lane finished off the evening with a wonderful general evaluation, but he did use 'you' instead of the third person, which we all need to look at and make sure we break that bad habit. Again David gave some great commendations and recommendations.
If you want to know a little more about Epsom Speakers history, please visit the link below. You will see there is a great history to the club, and I am glad to be carrying on the responsibility of keeping the energy flowing and the learning curve moving upwards. We certainly have some high flying speakers at our club, and long may it continue.
http://epsomspeakers.co.uk/history-epsom-speakers/
See you at the next meeting.
Keep shining.
Peter. 🙂
El Presidente.