Many thanks to the big cast of players who helped make last night's Humorous Speech and Table Topics Contests run so smoothly – our Contest Chairs, Adam and Patrick, Chief Judge Amanda and her team of judges from ESC and Surbiton Speakers, time-keepers Tom and Quwanie, ushers Sheena and Lloyd, Sonia for leading the impromptu Cool Down session, and of course to all the contestants who stepped up to perform an eclectic array of entertaining speeches.
Special thanks also to our VP Education Peter Parker and VP Membership Gillian Prior who have been working behind the scenes to pull together the evening.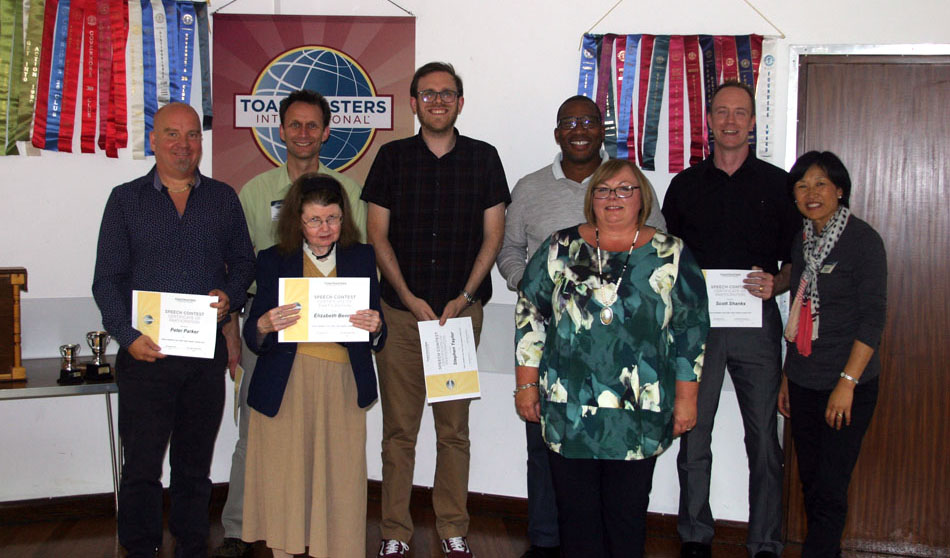 The Humorous Speech contest was won by Peter Parker, with Ian Upton and Dave Goodman runners up.
Our Table Topics contestants were given food for thought, when Patrick posed the Topic: "If we are what we eat, then who are you?"  Dave Villa-Clark took the honours, with Peter and Dave Goodman runners-up.  Well done also to Elizabeth, Stephen and newly returned member, Scott Shanks for taking part.
The Area 53 Contest is being held on Thursday 6 October, hosted by Surbiton Speakers Club.  As Peter will be on holiday then and unable to compete, Ian and Dave Goodman will be representing ESC in the Area 53 Humorous speech contest, while our two Dave's will go on to compete in the Area Table Topics contest. Please go along and give them your support.
It was also great to welcome four new members who've joined ESC this month: Ben Daly, Scott Shanks, Dave Lane and Paul Dowdeswell, and see them all participating so effortlessly in Sonia's Cool Down session on the theme of public speaking.
Our next Club meeting is on Monday 3rd October, 7.30pm, with Ian Upton as Toastmaster for the evening.  Ian will be emailing you soon to confirm roles.  Please note, we'll be in The Studio Room at Bourne Hall for this meeting instead of the Rose Room – thought it'd be good to have a change of scenery to add variety to our meetings.
Enjoy the rest of the week and beyond,
Doris
President, ESC