Our annual International Speech contest attracted six contestants, delivering inspirational, motivational and highly entertaining speeches and demonstrating a wealth of speaking talent: Ian Upton, Peter Parker, Costa Nicolaou, and our three Dave's – Villa Clarke, Goodman and Lane.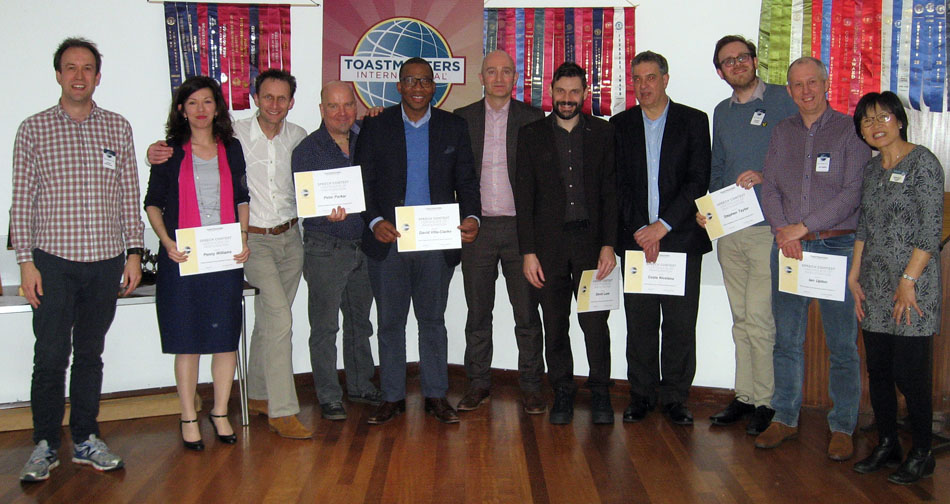 Many thanks to Jean-Marc Pierson from Holborn Speakers, who travelled to the depths of Surrey to be our Mystery (or Target) speaker for the Evaluation Speech contest. Jean-Marc's powerful and passionate speech entitled "Money, Money, Money" gave our six Evaluation contestants plenty food for thought – contestants being Dave Goodman, Adam Jones, Aishi Lim, Peter Parker, Stephen Taylor and Penny Williams.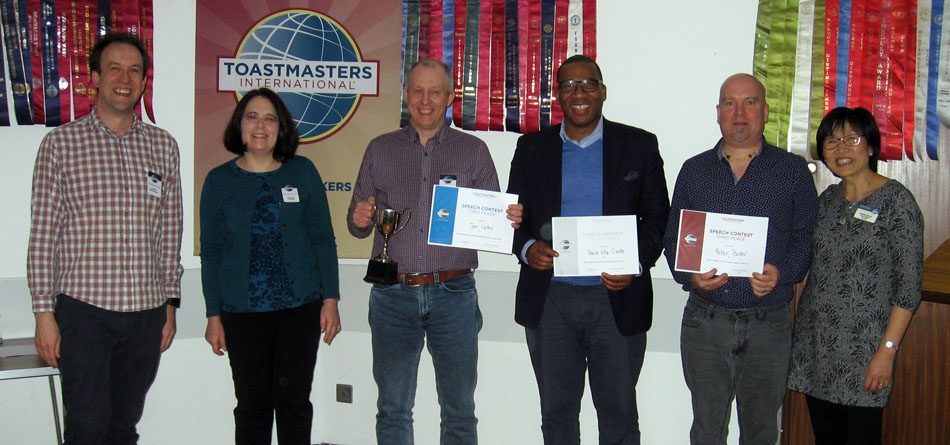 Congratulations to all our contestants for stepping up, taking part and challenging themselves in this more competitive environment. And the winners…
International Speech Contest: 1st Ian Upton; 2nd Dave Villa Clarke; 3rd Peter Parker.

Evaluation Contest: 1st Penny Williams; 2nd Stephen Taylor; 3rd Aishi Lim.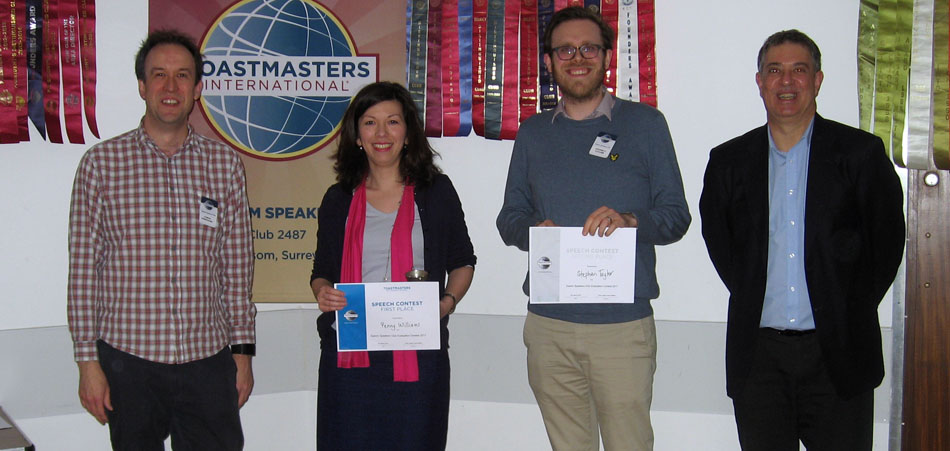 Running a contest takes loads of preparation and planning, not just for contestants. A huge "Thank you" to this year's Contest Organiser and Chief Judge – Lloyd Griffiths, and to his team – Contest Chairs: Gillian Prior and Costa Nicolaou; Time Keepers: Paul Dowdeswell and Amanda Zwarts; Ballot Counters: Elizabeth Bennett and Sumbal Tsang; Ushers: Sheena Campbell and Justin Pybus; Videographer: Phoebus Apostolidis; Warm down: Paul van der Hagen … and of course, to all the Judges who shall remain anonymous….
Doris
ESC President
P.S. Our Mystery speaker, Jean-Marc, is an astrologer and story-teller. To hear more of his stories, click here.