Good to see everyone at Monday's Club meeting, and for those who couldn't make it and sent apologies, here's what you missed.
One of the joys of Toastmasters is seeing how much members progress in their confidence and speaking skills when they commit to practising and participating.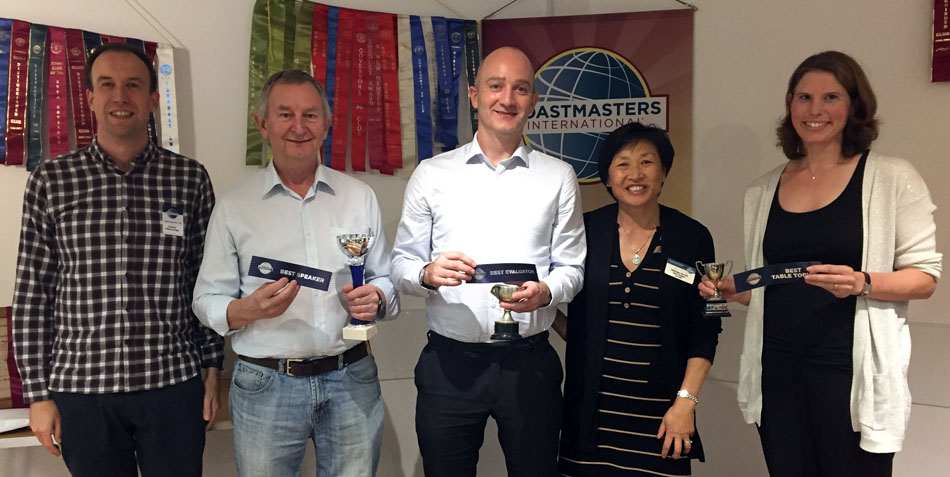 As Toastmaster for the evening, and first time in this role, Lloyd very capably demonstrated how far he'd come since popping into ESC one year ago. He was full of enthusiasm and energy, well prepared, and innovative – he'd placed a fluorescent "X" on the stage floor to remind himself, and us all, to position ourselves at this centre when we speak.
James looked so comfortable spinning his story of procrastination in coming up with a Warm Up topic, and getting us to confess whether we were planners or preferred to leave things to the last minute, also.
Relatively new member Paul Dowdeswell showed his determination to put into practice the feedback he'd received from his C1 at the last meeting, and spoke with heart and humour about himself, delivering his C2 titled "Try Again". He won Best Speaker, against two very entertaining speeches from two very experienced speakers, Peter and Charlie. Adam, Aishi and Gillian gave valuable feedback as Evaluators, with Adam winning the vote for Evaluator.
Penny, as Topics Master, had an eclectic assortment of household treasures contained in her pink shopping bag. The 9 Topics speakers had the task of influencing the audience to buy whatever they fished out. Sonia and Doris shared the Best Topics vote.
The evening was rounded off with Stephen as Topics Evaluator, noting how many speakers used or avoided the "X" spot, and Amanda as General Evaluator. "Preparation, Polish and Potential" were the three words she used to describe Lloyd's performance as Toastmaster, and the basis for an inspiring, educational and entertaining evening. Many thanks to Lloyd's team – Scott as timekeeper, Justin as videographer and Costa as ballot counter.
Announcements
The District 91 Conference is being held on Sat 5 November in Woking, with the final heat of the Humorous Speech and Table Topics Contest where Division winners compete, plus workshops. Mark Pratt and Jamie Janie from Surbiton Speakers are representing our Area 53. For more info and to book, click on this link http://d91toastmasters.org.uk/conference/
Sandy Eifon-Jones, Area Ambassador for the Revitalised Education Programme, has prepared an update on the REP which she will be emailing to members shortly.
Next meeting is on Monday 7th November, with Charlie Warshawski as TM.
Doris
ESC President