It's been a hell of a fortnight since our last meeting, with the terrorist attack in Manchester followed by the horror of the attack so much closer to home in London on Saturday. Justin Pybus, TM for the evening, led a fitting one minute silence to pay tribute to the victims killed and wounded. Taking time to stop, to pause, to breath, to reflect – a very welcome space for all.
"Where were you and what were you doing at 10.08pm last Saturday night?" was Elizabeth's very pertinent Warm Up question. It connected us to those tragic events, and the responses gave illuminating insights into members' lives. It was comforting to know that I wasn't the only one tucked up in bed!
And thus began what was, as Stephen Taylor, General Evaluator, put it: "one of the most enjoyable evenings ever". Justin had been working overtime before the meeting, liaising with the speakers and working out the Agenda and timings. He had the added challenge of fitting in 5 speeches – the most we've had in one meeting. As Stephen noted, Justin's introductions and transitions between speakers showed how well he was listening to the speeches, as well as knowing each speaker's objectives. Not bad Justin, for a first timer in the role of TM.
We had a wide variety of speeches – a C2 from Sumbal about building confidence, a C3 from Rohan on mindfulness, a C4 from Kevin Perkins about selflessness, a C10 from Bohwon and a very special non-Manual "Father of the Bride" speech from Paul Dowdeswell. Without exception, all speakers performed admirably, as noted by their respective Evaluators Gillian, Amanda, Ian, Costa and Adam, who "facilitated" Paul's evaluation by crowd-sourcing feedback from the audience.
It was a pleasure and privilege to witness Paul's speech. This was his dress rehearsal before the real deal which takes place on Saturday 17 June at his daughter Charlotte's wedding, the main reason for Paul joining Toastmasters. It's great that Paul's not only staying on and continuing his Toastmaster journey after the nuptial event, he's going to be our new Sergeant-At-Arms.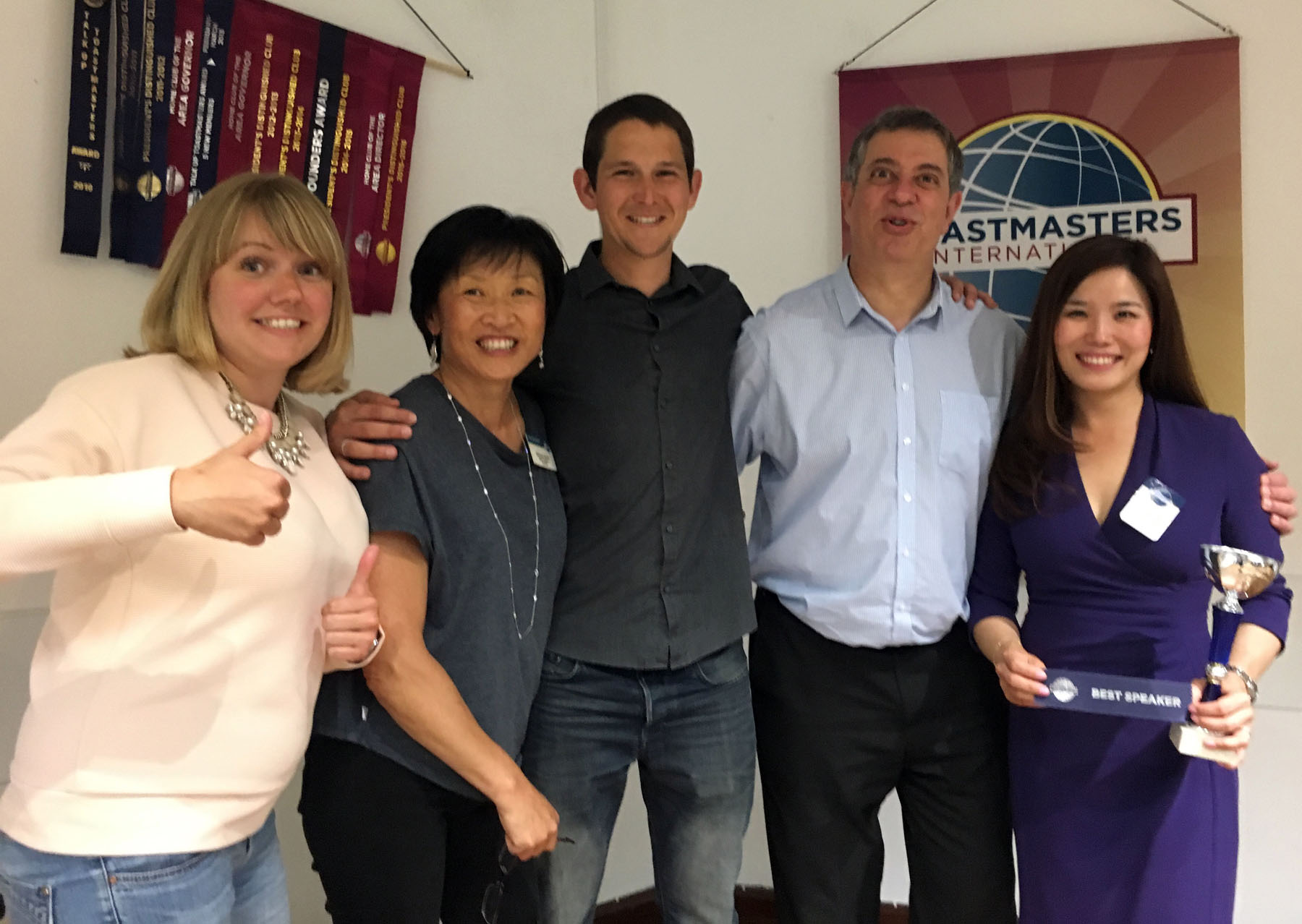 Taking the honours for Best Speaker was our elegant Dr. Bohwon Kim, with her C10 speech entitled "Unstoppable". Professional, polished, poised, as well as humble, humorous and hilarious – Bohwon demonstrated so well the many lessons she's gained on her Toastmaster journey through the CC manual. I particularly loved how she showed how much one is communicating BEFORE one even opens one's mouth. Bohwon communicated with her eyes, her face, her body, her gestures, as well as her tone, pitch and pace. A whizz-kid with super Korean genes, Bohwon – who has a Ph.D. in Engineering (in French from Paris) – expressed her gratitude to ESC members for helping her build her confidence to speak in public, enabling her to secure her dream job at the top university in London – Imperial College. And her next goal? Ladies' Captaincy at her golf club, just so that she can get that reserved car parking space! As Costa, who won Best Evaluator vote, noted: Bohwon is now a very "Competent" Communicator indeed.
Adam led a relevant and highly amusing Topics session. With the General Elections coming up on Thursday, the theme was "what would you say if you were canvassing to be the next Minister of….important stuff like….Public Good Manners, Fun and Laughter, French language for all UK citizens, or Standardised Haircuts (like in North Korea)?".  Despite a tight timetable, six brave souls took to the podium and delivered some seemingly not dissimilar rhetoric aka politicians in real life. Congratulations to the Minister for Banning Domestic Pets, Katy Minson, for winning the Best Topics vote against some formidable candidates.
Dave Lane, acting SAA for the evening as well as Topics Evaluator, with his keen eyes and ears, was able to give commendations and recommendations to all our aspiring politicians.
Our final meeting for this Toastmaster year is on Monday 19 June, with Penny Williams as TM. See you all then,
Doris
ESC President