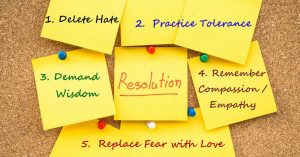 Epsom Speakers Club meeting Monday 8th January 2018.
Firstly, thank you to all the members who turned up on Monday evening, which was another busy night. It is great to see so many people keen to learn the art of public speaking. There was much laughter again and all the new members who took on new roles did really well. On the whole, the evening was a great success, and I look forward to more of the same over the coming months.
David Lane was the Toastmaster for the evening, and guided us through a great programme of mostly advanced speakers. Firstly Sheena Cambell introduced the warm up about resolutions, which seem to warm the room up and engage everybody, which is the mark of a successful warm up. Then we had the speakers.
Penny opened up proceedings with an educational speak on the subject of 'How to begin your speech'. I am sure Penny would be more than happy to send you the key elements of the educational if you would like. It was real food for thought when preparing the opening of your speech. Dave Goodman spoke next and gave us a Eulogy. Dave's Father has recently died and he wanted to air this Eulogy before the funeral. It certainly touched me, as Dave recounted stories and anecdotes of what I now see as a wonderful man, and how Dave has passed that knowledge and love onto his children. In my humble opinion, I feel that was Dave's best speech as yet at Epsom Speakers. Thank you so much Dave for sharing such a personal moment. Next up was Justin with his hard hitting speech entitled 'Are resolutions for losers? Justin went on to give us food for thought about why we make resolutions and what percentage of them fail. I guess we will all have a drink in his bar in February when he closes down his gym. Last but not least was Doris who spoke about 'What's your type?'. A very interesting speak based on a survey influenced by Carl Jung. Sometimes I feel like I want to follow in Carl Jung's footsteps and go and take myself away from society and indulge myself with artistic pursuits. Unfortunately there is too much work to be done for me as yet. This was a well researched speech and delivered by a very experienced speaker. Thank you Doris for such an insight.
Then came the evaluators. We had Daniel, Amanda, Paul V and Gillian all performing great evaluations. I learnt much from their insights and I am sure the speakers did too. The standard of the club is always rising, and it does not seem to be deterring new members to join us, so I feel we are all doing something right.
After the break we had the topics run by Phoebus. Phoebus asked for advice on how to bring up his children. The list of speakers were Anjana, Peter. Julia, Mark, Ramon, Joe, Chris and Matt. It was great to see guests and new members getting stuck into the topics session, which I find the most fun part of the evening, as you really see people on the razors edge. Who knows what is coming next and it really did bring up some good ideas and some fun moments. So well done everybody who took part.
Charlie evaluated the topics session and he managed to find a commendation and a recommendation for everyone. Charlie did this all without the use of notes, and the guest next to me was absolutely stunned. One of Charlie's memory workshops are definitely worth considering.
And we had Costa to end the evening with a general evaluation. Overall the evening was great, but he did make some very valuable points which I concur with. Please always keep control of the stage before handing over to the next speaker. This is very important for many reasons and is a good discipline. There were times when the next speaker coming up for whichever role it was, seemed a little confusing. Also please ensure that you applaud the speakers coming up onto stage. Clapping has a very positive effect on the psychology of the audience, if you look into it. So the applause you give not only encourages the speaker who is about to perform their role, but also makes you feel good too. It is truly a win win situation. Now wouldn't that be wonderful if we could get a win win situation in all aspects of our lives. Maybe one day.
Two more announcements to make. We have Club officer training at Mole Valley coming up at the end of January and the details are as follows.
Date:  Monday 29th January, 2018
7.15pm for a 7.30pm start – ending no later than 10pm.
Venue:  Ashtead Peace Memorial Hall
Woodfield Lane, Ashtead KT21 2BE
If you are considering joining the committee next year, then this is an ideal opportunity to see what it entails.
Also there is a short survey from the District conference about education. If you could take a few moments to complete the survey, we would be most grateful. Here is the link.
https://www.surveymonkey.co.uk/r/TMIConf
However you choose to spend your year, I hope you enjoy yourself. I also do wish for your to get what you need out of Epsom Speakers Club and that we fulfil your educational requirements. Have a great 2018 and I will see you at the next meeting where our Vice President of Education Gillian Prior will be Toastmaster. I look forward to that.
Keep shining.
Peter. 🙂