It was good to see so many turn up for the Christmas meeting. Lloyd and Elizabeth win the best dressed with their Santa hats, and really did gave us a good injection of the Christmas spirit.
The evening was launched by Lloyd as the S@A and he started the meeting with a lively Christmas based introduction, setting the meeting off with great energy and a sense of fun. What an excellent start.
We also had a first for Sonia, as it was her first time as Toastmaster. It wasn't planned but seemed a fate accompli as Sonia had first visited Toastmasters exactly a year ago to the day. Sonia did a great job as Toastmaster and rode over her mistakes like a true professional. That was so good to see.
Part of Sonia's team were Justin as timekeeper who gave us a great run down on what the timekeepers role was all about, and Sheena did the same as videographer. Elizabeth did a great job as Ballot counter again.
Kevin re-joined the club and did an excellent job as warm up artist. The theme of the warm up was your funniest or most terrifying moment when flying. Kevin really did a great job at this role as he managed to get everybody to say something about their experiences. Even the people who had no such experiences flying managed to partake. This was a fun and interesting session. Welcome back Kevin. Very good to see you last night.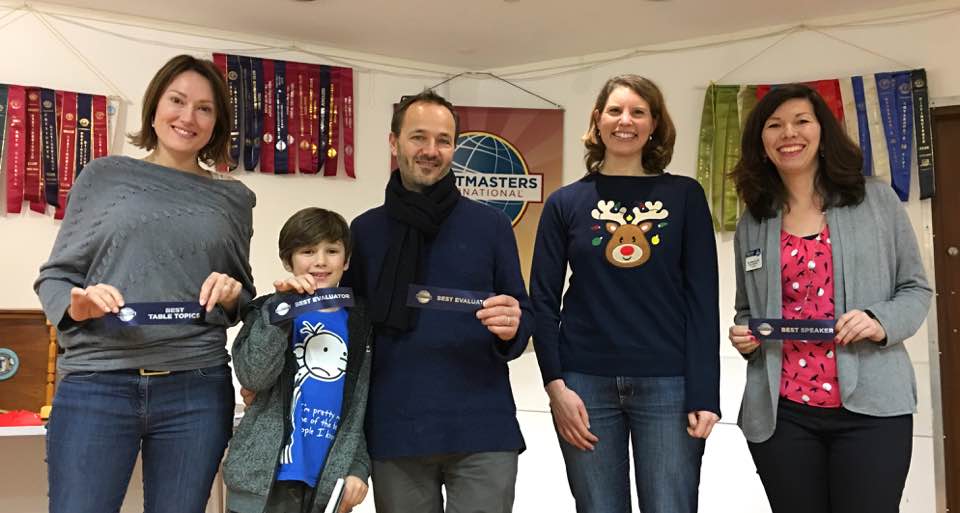 We had three speeches form Paul D, Penny and Dave G. Well done to Paul speaking about his French escapade when he was a teenager. Sounded like an experience and a half. Thanks to Dave for his key note speech with some very interesting solutions to what we have coming down the pipeline as a species, and Penny, for her heart felt story about her father. These were all great speeches and very entertaining, thought provoking and interesting. A big thank you to Dave for filling in at the last minute.
Our evaluators were Gillian, the Warshawskis, and Ian. This was an exceptional evaluation session and was beneficial not only to the speakers, but for all of us on how to evaluate, and how to improve ourselves as speakers and evaluators. Well done to the Warshawski family, who won the best evaluators.
We had another first as Topics master under the guidance of Lloyd. What a great and innovative session. Lloyd gave everybody a Christmas card and asked them to either comment on the theme in the centre of the card or on the front picture. Lloyd did a fantastic job as he managed to get everybody to speak well, so it was a wonderful session and very enjoyable to watch. A big thank you to Adam, Costa, Rohan, Emma, Serkan, Anjana, Elisabeth and Sheena for participating and making it such a fabulous session.
Then we had Aishi as the evaluator of the session. Aishi really did a great job as he managed to give everybody a commendation and a recommendation for their performance.
And last but not least, Amanda Zwarts was our general evaluator. Amanda gave a great evaluation of the evening, pointing out the good points and the areas that need sharpening up, and managed to give us that community feeling in on smooth flow. It is wonderful to see what I would call the new members now taking on the more established roles. It really does feel like we are all growing together and a pleasure to see such positive strives forward in confidence, ability and stage presence. Well done to everybody.
Remember to formulate your Toastmasters vision for the year to come. We are here to help you achieve that vision. And on that note, I wish you a very merry Christmas and joyful new year full of peace, good will and love.
Our next meeting is 9th January with Patrick as Toastmaster.
Peter
VPE & Acting President