Kia Ora (Maori for hello) fellow Toastmasters, and a belated Happy New Year!
What a wonderful way to start 2017 – a truly inspirational meeting last night led by TM for the evening, Patrick Ebbs. Despite the 24 hour tube strike, the Rose Room was filled to capacity with 30 attending, including many guests and our newest member to join ESC, Phoebus Apostolidis.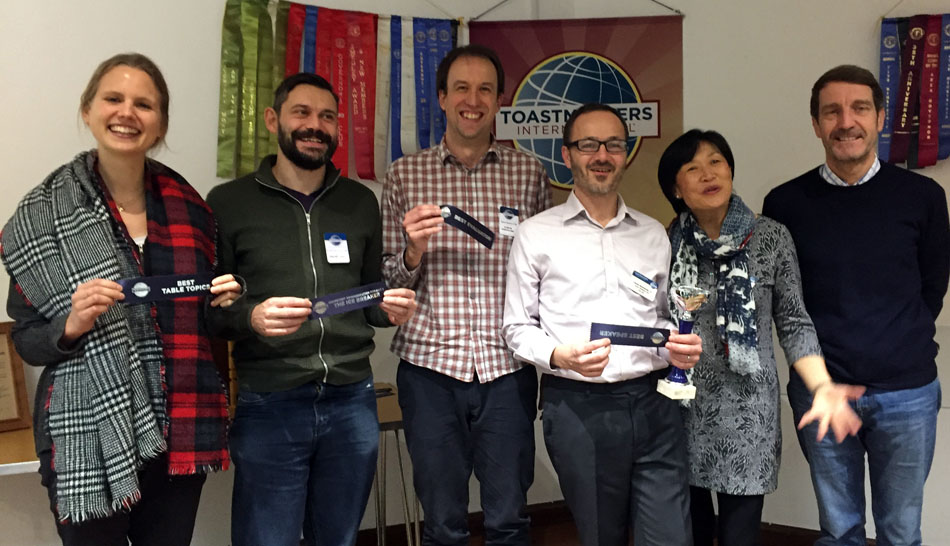 Tom Beattie's Warm Up was a super topic, helping to ignite positive energy, enabling everyone to speak and discover insights about each other: who inspired you the most in 2016 and why?
Dave Lane, who joined ESC last month and who is also a member of PMI Toastmasters in London, re-delivered his curiously entitled C1: How to Start Worrying and Stop Living. We learned a lot about Dave, as he shared with us his story of how he finally broke free from his "prison" … to become free … at last!
Our second speaker was Charlie, with a 20 minute Advance Speech from The Professional Speaker's manual entitled "Potentially Speaking". In usual Warshawski style (which won him Best Speaker), Charlie's impassioned, entertaining and motivating performance on how to develop our full potential was eagerly received. I'm going to follow his advice: start doing (more) outrageous things, and develop that critical skill of bounce-back by learning to love failing – yes, really.
Well done to Rohan Nallanickan, our third speaker, for making it in time to deliver his C2 despite being stranded in London by the strike for several hours.
Our evaluators Lloyd Griffiths, Dave Goodman and Adam Jones gave their considered and constructive feedback. This was Lloyd's first time as an evaluator, and he give a sterling performance, within the three minute time limit, securing him the Best Evaluator ribbon for the evening.
After a short break, Ian led the Table Topics session on the theme of … New Year resolutions … asking each speaker to choose between two alternatives e.g. go to the gym or eat less; holiday of a lifetime or stay-cation. Congratulations to Kat, a first time guest, who managed her nerves superbly, speaking fluently about her many failed attempts to learn both music and languages, and choosing instead to focus on public speaking – winning her the Best Topics ribbon.
Penny, as Topics Evaluator, and Aishi as General Evaluator, rounded off the meeting with their impromptu speeches, giving us their well observed commendations and recommendations.
Our next meeting is on Monday 23 January, with Dave Lane as TM. Dave will be emailing all to confirm roles.
Doris
ESC President