It's February already, and less than five months remaining in this Toastmaster's year. How are you getting on with your goals? Like all Toastmaster clubs around the world, our meetings are designed to get you speaking, learning and developing communication and leadership skills by "doing it", getting and giving feedback – a virtuous cycle, with plenty of fun along the way.
Our newest "dad", Stephen Taylor, led the evening as TM. Obviously not (yet) sleep deprived, and inspired by President Trump's first three weeks' in office, he sprinkled several "alternative facts" throughout the evening, keeping us entertained and inquisitive as to the truth… and apparently, every one of his "alternative facts" was, in fact, true. Even the one about the dead man winning the horse race.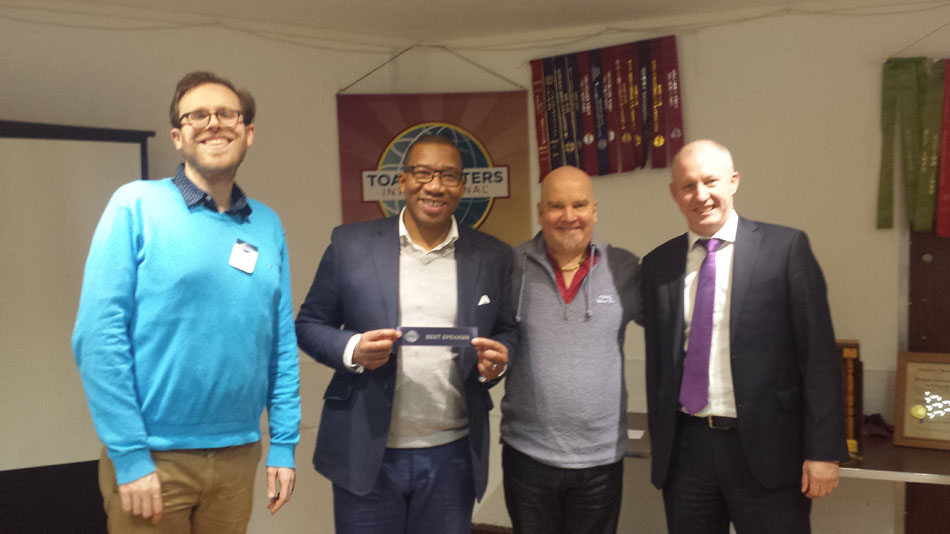 Justin Pybus asked "What's your earliest childhood memory?" in his Warm Up session. Amazing what you can learn about your fellow members in just 15 seconds, and just how mischievous and down-right naughty many are!
We enjoyed three very entertaining, and persuasive, speeches: Kevin Perkins' C3 "The Boy in the Parade, Bohwon's C9 "3 Things I Will Teach My Future Kids" and Dave Villa-Clarke's C8: "Making a Real Difference".  Dave won the "Best Speaker" ribbon with his speech about Project Volunteer, the charity he started 10 years ago to help orphaned children whose parents had died from Aids in Botswana.
I took up Dave's "call to action", and googled "Project-Volunteer.com" to learn more. We all know that Dave has a big stage presence, but actually, he's quite reserved, especially when it comes to acknowledging his successes. My google search revealed that Dave had been awarded the BEM (British Empire Medal) in the New Years' Honours' list, for not only his charity work, but also for his mentoring of businesses and schools, football coaching and other "little bits" he does – like mentoring ESC members. Many congratulations, Mr David Villa-Clarke, BEM – the "people's medal" for meritorious civil service.
Our three Evaluators were Paul Dowdeswell (well done Paul, this was his first time as Speech Evaluator), Gillian and Ian. Ian won the Best Evaluator vote, with a "masterclass" performance, explaining not just what he liked about Bohwon's speech but also why he liked it. And in his recommendations, he highlighted what Bohwon could do differently (use more vocal variety and pace), why this would improve her delivery, and how to do so by demonstrating his recommendations.
Costa led a fun-filled Table Topic's session on the theme of the meaning of proverbs. With 9 speakers, my sympathy was with Amanda, who had to figure out the meaning behind "The dogs bark but the caravan goes on". Being a polished impromptu speaker, Amanda weaved a very plausible response, alluding to the possibility that Costa had somehow misinterpreted the translation of this proverb. Amanda was marginally beaten by Peter Parker who won the Best Topics' vote with his well-structured and enlightening 2.10 minute speech about "why you won't get to the top by sitting on your bottom".
Our Sergeant-at-Arms, Lloyd, obviously doesn't have enough to do with greeting guests, setting up the room, organising the projector, setting up the refreshments, filling the biscuit tin, designing surveys, calling the meeting to order, repairing broken bits of equipment… so he counted the number of "ah's and um's" of each and every member who dared to utter a word.
The evening was wrapped up with well-observed and constructive feedback from Patrick's Topics' Evaluation and Adam's General Evaluation of all the bits of the meeting that hadn't yet been evaluated – only to be expected from two very experienced and polished Toastmasters.
Our next meeting is on Monday 20th February, with Amanda as TM. Until then, keep practising and honing your skills.
Doris
ESC President