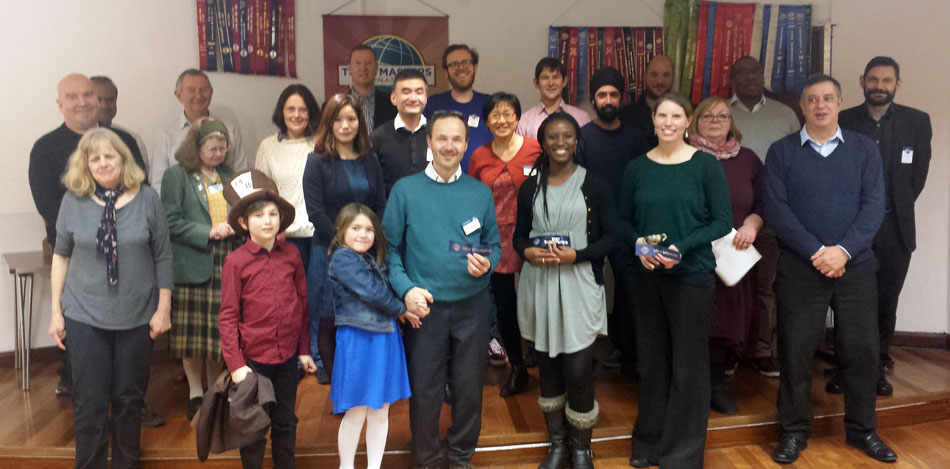 Membership at ESC has steadily grown throughout this Toastmaster's year, with a total of 9 new members joining since July last year. At Monday night's meeting, we welcomed our latest recruit, Paul van der Hagan, bringing our current membership to 35. It was good to welcome back Stephen Taylor who's been on "parental leave" since the birth of his son, Flynn, in December.
Dave Lane aptly led the proceedings as TM for the evening, demonstrating flexibility in negotiating a few amendments to the Agenda after a few last minute changes as one speaker was unable to make it due to illness. Charlie stood in for the appointed Time-Keeper Rowan who was running late due to work commitments, Sheena took control of the Video-camera, and our VP Education, Peter Parker, got to use his maths skills as Ballot Counter.
Dave reminded us that Toastmasters is more than just about developing confidence and competence in public speaking. Holding up the CL (Competent Leadership) manual, he highlighted the many lessons and guidance in that manual which all can benefit from. So, remember to bring both manuals to all meetings as they contain valuable reference information for giving feedback, etc.
Elizabeth got our vocal chords warmed up with her question: what type of weather do you like the most? A typically British topic which everyone was able to speak about – and rather surprisingly, many members love the cold, freezing and frosty days we've been having lately. Elizabeth, well-prepared as ever, concluded her Warm Up session with this advice: "Whether the weather be cold or whether the weather be hot, whatever the weather, you must weather the weather whether you like it or not." Here, here, Elizabeth – wise words from a wise woman.
Sonia was our first speaker with her C4 entitled "Not your Average Day at the Office". She mesmerised us with tales from her time in Sierra Leone delivering workshops on child protection to aid workers. Her evaluator, Bohwon, noted how much progress Sonia's made as a speaker, and suggested some recommendations for future improvement. One was to provide more context as to what her "average day in the office was", so that the audience could appreciate just how "not average" this tale was. Remembering to provide the "context" for your speech is a recommendation we can all take on board, so that the audience can better connect with and understand what you're talking about.
In his C5 speech, "The Flying Spittle", the name of his first car which he bought in 1973 in Bath, Paul Dowdeswell demonstrated his romantic side. He spoke with great fondness about his love affair with Nellie, his Flying Spittle. Unfortunately, it was a rather one-sided love affair, with Nellie trying to kill him on several occasions. As Paul's evaluator, Costa commended Paul on achieving the C5 objectives of using body language to help express his message and speech purpose. One recommendation which Paul will no doubt continue to work on is to simply pause more, instead of using filler words like "um" and "ah". Gillian, our Ah-Counter for the evening, awarded Paul with the speaker with most "um's" and "ah's".
With the last minute withdrawal of our third speaker, Kevin Perkins, due to a bout of food poisoning just before the start of the meeting, Justin Pybus, who had been assigned as Kevin's evaluator, took up my request to do an "impromptu" 5-7 minute speech instead. Justin loves challenges, and delivered a C3 speech entitled "Be Honest With Yourself". He started his speech by giving us context, explaining how he'd come to develop this speech – last minute – and how it was based on something he'd heard on the radio that morning.
Well done, Justin, for stepping up and out of your comfort zone. He was rewarded with a very comprehensive evaluation, spear-headed by Charlie Warshawski who facilitated commendations and recommendations from all of us in the audience, in addition to his own observations. Charlie's orchestration won him Best Evaluator, with the help of everyone, thus explaining why everyone was included in the final "photo" of winners for the evening.
Our resident anaesthetist and Table Topics master for the evening, Dr Aishi Lim, exposed his vulnerable side as he asked Topics speakers to give him advice on a number of personal issues – e.g. "how to stop his addiction to Facebook" and "what to say when you break wind"… Eight speakers spoke, including our two guests, Inder and Carla. There was stiff competition for Best Topics speaker, with our first time guest, Carla, clinching the ribbon with her eloquent story of following her 9 year old's advice on "how to prepare to speak in public" – just think of yourself as a lion full of courage.
Lloyd and I decided to do the Topics Evaluator role together, with each giving a commendation and recommendation for alternate Topics' speaker. This was Lloyd's first time as TE, and it's be a while since I did this role, so tackling this role jointly meant we gave ourselves less pressure, and hopefully, gave each Topics speaker more quality feedback.
Amanda, as General Evaluator, rounded the evening with her observations of another stimulating evening full of learning, highlighted by the level of energy and buzz during the break as everyone chatting and connecting.
Finding opportunities to do things differently is easy when there's a supportive, friendly, no blame culture – which is what ESC is about. So let's continue to experiment and innovate, and push beyond our comfort zones.
—–
Best wishes for the upcoming Year of the Rooster, starting on Saturday,
Doris
ESC President